Description
Here is my Messerschmitt Bf 109G-2 in 1/32 scale.
The conversion was quite straightforward as this aircraft displayed a number of later features, including a G-6-style tail wheel. The basic kit was Hasegawa's 1/32 scale Bf 109G-4.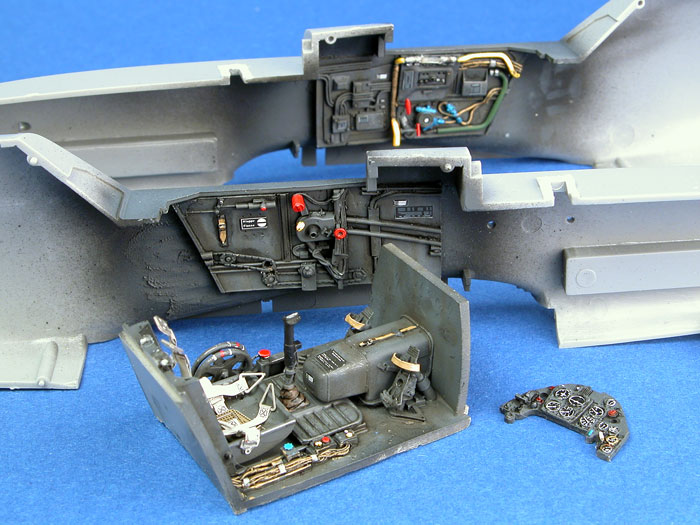 MDC's beautiful resin cockpit was combined with Aires' colour photo-etched harnesses in the front office. Both of these are fantastic accessories that add a great deal to the model.
MDC's riveting tool was used to add structural detail to the exterior surfaces.
The kit was a joy to build, and quick too. The only area that needed special attention was the join between the gun deck and the engine cowl. This area was carefully filled with Milliput on both sides and sanded flat.
I also installed Cutting Edge's exterior detail set (which included new hollowed-out exhausts and separate control surfaces), Eagle-Editions replacement spinner, MDC's tail wheel assembly, rebuilt the gun troughs using plastic card and added details to the interior of the canopy.
The model was finished using the Testor Aztek airbrush fitted with the "Fine" Tan coloured tip.
The canopy was masked, inside and out, with Montex Model Club masks. In this scale the inside of the canopy frames are very obvious, so the interior canopy masks are welcome.
Decals are sourced from MDC's sheet number 32007.
The final coat was Polly Scale Flat, which delivers an attractive and robust finish to the completed model.
Construction and painting of this model will be fully described in the forthcoming Osprey Modelling title, "Modelling the Messerschmitt Bf 109 Part Two".