Description
Here is Hasegawa's 1/48 scale F/A-18C kit depicting a Hornet from VFA-22 'Fighting Redcocks'

YCBARC ' You can't beat a Red Cock !! '. Serial 164012 Aircraft '314' from USS Carl Vinson during 'Operation Enduring Freedom'. Weapons loadout on the aircraft is for when the aircraft was working with a FAC, both day and night.

Decal markings came from the excellent "Two Bobs" Aviation Graphics set 48-029.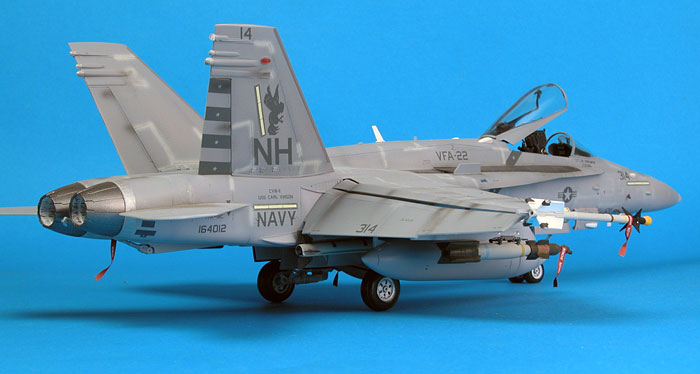 Additional detailing took the form of a "Black Box" cockpit set 48063 with GBUs supplied from the Hasegawa Weapons Set 'D'. The Aim-120 AMRAAM came from a 'SOL' set. Some Eduard 'Remove before Flight' flags were used in the most appropriate areas. These RBFs come as a photo-etch already painted and are excellent to use. Just snip them off and twist them to give the impression of blowing in the breeze then attach with a drop of Super Glue.

The Aim-9 Sidewinder seeker head covers are from an 'Airwaves' set.

The model was painted entirely using my Testors Aztek airbrush that I've been using reliably for about 10 - 15 years. Gunze Sangyo acrylic paints were used throughout with additional weathering done using some pastel chalks from a model railway locomotive weathering kit. The model was matted down after decaling using Gunze Sangyo Matt varnish with a drop or two of the aircraft upper colour added which when applied toned down the markings nicely.
The aircraft's canopy and windscreen was also dipped in 'Future' to improve the plastics clarity.