Description
Eduard's 1/48 Bell X-1 Profipack

"There was a demon that lived in the air...." That first line from the film "The Right Stuff" echoed in my head as I built this kit. In fact, my wife grew a little weary of me holding up the little orange plane and intoning that now all-too-familiar phrase.


The Bell X-1 is now legendary as the aircraft that CPT Charles E. "Chuck" Yeager broke the sound barrier with on 14 October 1947. Eduard's profipack kit is replete with resin bits and photo-etch, allowing the builder to turn out an outstanding representation of the first X-plane.
I used the Polly Scale railroad color "Reefer Orange" for the distinctive skin of my X-1. Resin parts include main wheels and boxes in the cockpit, while the photo-etch bits include three types of instrument panels, depending on which X-1 the builder wishes to do.
The kit decals are among the thinnest and finest I've ever used. They reacted well to Micro-Sol and had absolutely no silvering. Due to operator error, I decided to drop the flaps to fix a sanding gaffe I had made on the trailing edge of the wing. The only down side in my mind is lack of position tabs in the fuselage and having to hold your mouth just right to get the proper alignment of the wings and horizontal stabs.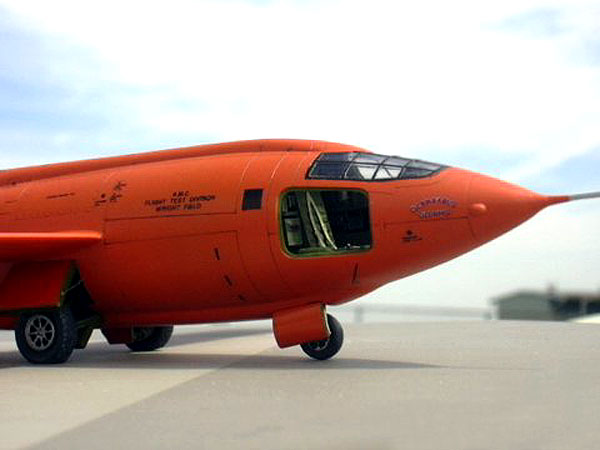 Overall, I thoroughly enjoyed this kit. Whenever I see it on my shelf I think of those men "who came to the high desert of California to ride it." I was fortunate enough to take a second place in Atlanta, GA and a first place in Richmond, VA this year. "Put the spurs to her, Chuck!"

Thanks to my friend Dave Pepper for the use of his tarmac base.