Introduction
Here is my AMT 1/25 Scale 1957 Chevrolet Bel Air Hardtop

AMT's '57 Chevy was first released in the early 1960s, and has been one of their perennial best-sellers for most of the time since. The kit contains everything needed to build a stock '57 Chevy, along with a good selection of early '60s speed and custom parts.

I wanted my model to represent a car that might have been driven by a high school kid in the late '60s, when the "Tri-Five" Chevy was at about the bottom of the price curve and still affordable to those of modest means. (My Dad sold a very clean '56 Chevy convertible for just $350 around 1966 or '67!). The storyline is that the car would have been a very clean trade-in, or perhaps the kid's grandparents handed down the minty Chevy. The kid then updated the car with engine, transmission, and wheels (maybe even front disk brakes, too) from a wrecked '68 or '69 Camaro, Chevelle, or Corvette.

Upgrading the Chevy
To save time and effort on the model, instead of swapping in a whole new engine I just added intake parts, valve covers, and belt-driven accessories from an AMT '68 Z/28 Camaro to the '57 kit's basic 283 engine block and heads. Chevrolet Rally Wheels came from AMT's '69 Chevelle SS396, and the vintage AMT redline Firestone Supreme front tires came from my box of vintage kit parts. The rear tires are slicks, which I turned into "street-legal" "cheater" slicks by cutting two grooves in each with a razor saw. I used the kit traction bars on the rear springs. Except for the metalflake blue steering wheel, everything else is out of the kit box.

Paint
I wanted to finish my model in the gorgeous factory original '57 Harbor Blue/Larkspur Blue two-tone combination.
I had to mix the Harbor Blue out of three shades of Model Master paint: Glossy Sea Blue (military color), Chrysler Engine Blue, and Ford/GM Engine Blue, adjusting by eye as I went until I got a color that looked right to me. For "Larkspur Blue" I used Testor #1108 "little jar" light blue right out of the bottle. It's too deep--I should have lightened it about 50 percent with white--but I like the way it looks. Although it's not accurate for a Bel Air (though it would be for a 210 or Delray coupe), I painted the distinctive side trim "spears" with the #1108 blue, too, instead of using the kit's supplied "aluminum trim" decal. This would have been an easy modification to make in real-life. The paint was rubbed out with Wright's Silver Creme, a mildly abrasive silver tableware polish.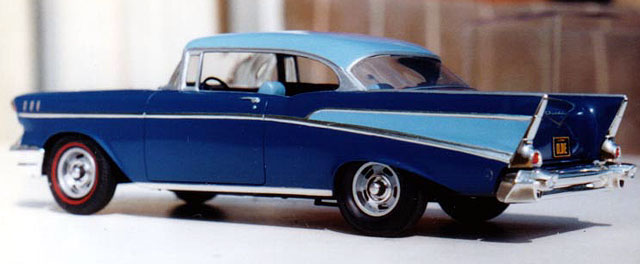 The interior is also two-tone: More #1108 light blue, with the seat inserts hand-brushed with Model Master Flat Insignia Blue FS35044.

The side spear chrome trim is Bare-Metal foil. All the rest of the model's chrome and gold-anodized trim are hand-brushed Testor Silver and Testor Gold.

Conclusion
I'm very pleased with how this model came out. It's just the way I wanted it to look when I started it, and it usually draws an appreciative comment or two whenever I show it.

I believe this classic old kit has just been reissued yet again by AMT. Why not grab one
and build YOUR idea of the perfect '57 Chevy?
Model on!