Construction
Here is my 1/48 scale Hobbycraft A-4M 'Marine Skyhawk'.

For those looking for a more in- depth take on this kit you should read Jay Chladek's fine review on Modeling Madness in their 'Kit Previews' section.

This model has been built pretty much right from the box.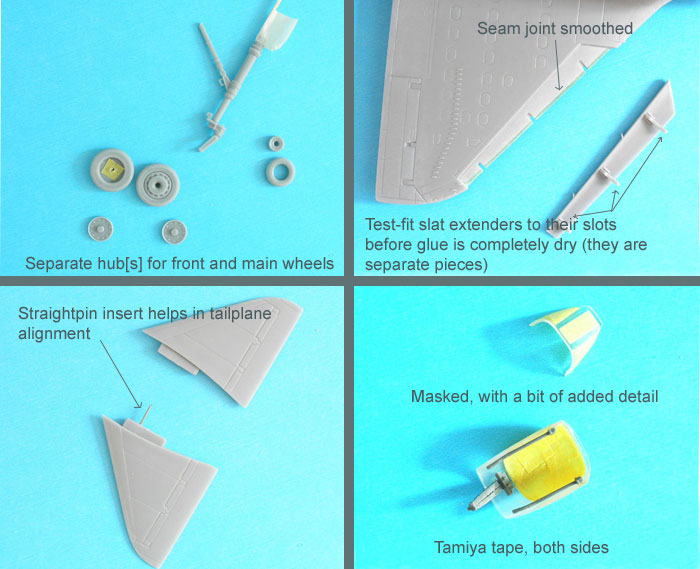 I did use some of the smaller pieces left from my build of the Hasegawa A-4E/F kit (antennae, tail pipe, guns, 'chute housing, and seat).

The basic aim of the project was to build a model with a minimum of flaws and get a good paint job on it -the KISS theory. This is the kind of kit that's a test of your basic modeling skills- the nose section and the avionics hump are separate pieces and must be blended in. The cockpit is very basic and I didn't try to do anything with it other than drybrushing and adding a few [colored] highlights.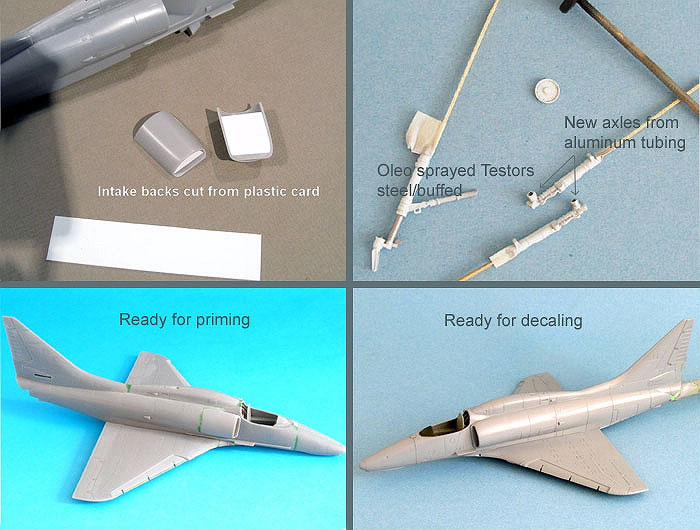 The Hasegawa seat helped immensely.


Painting and Markings
The upper/lower scheme was done with Model Master Light Ghost Gray and Model Master RLM 63 Lichtgrun- a quite light gray with none of the slight bluish tinge of LGG. Simple hand-held card masks were sufficient for this. A medium gray acrylic wash was applied only at the control surface lines, along with a bit of pencil-work here and there.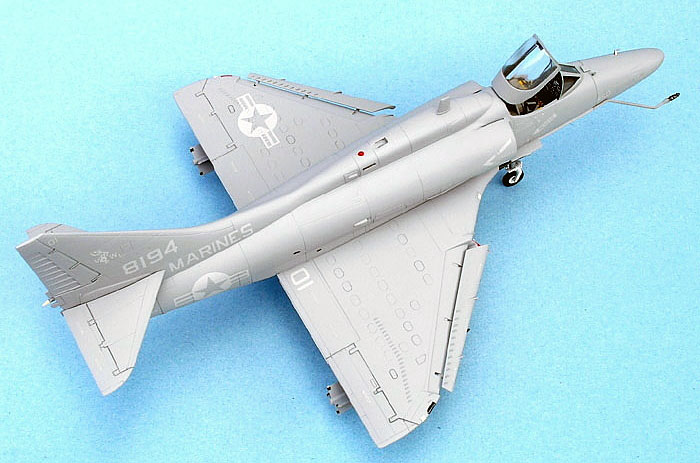 The SuperScale decals worked well over several coats of Testor's Glosscote 1261- even over the vortex generators, which are not as pronounced as the ones on the Hasegawa or Monogram kits.

This kind of project I like to think of as 'workman-like' ; basic modeling homework done on an 'average' sort of kit. Like the baseball adage, I didn't 'try to do too much with it'.


Photography
As usual, these pics were taken with an Olympus C-5500 Zoom 5 mp. They've been adjusted for brightness/contrast and color balance.
The 'night scene' was done using the 'high pass' function in PS, with a touch of 'lens flare' at the warning lights and blurring at the exhaust area. Lots of fun.