Eduard 1/48 scale
Messerschmitt Bf 110 E
by
Iain Mackenzie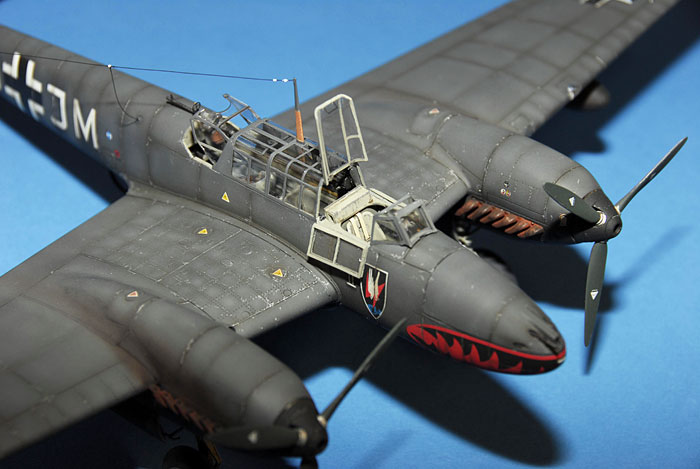 Description
Here is one of my latest models I have completed, Eduard's 1/48 scale Messerschmitt Bf110 E.
I have not included any construction photos, as I think everyone who is interested in this genre of model has seen and read the full build article by Brett Green in the Bf 110 HyperScale Resource Guide.
Construction was straightforward - no problems at all. Only a smear of filler was needed at the engine nacelle/wing join on both wings.
Seatbelts are the pre-painted Luftwaffe WWII parts from Eduard.
Paints are from Model Master (enamels) Tamiya and Vallejo Model Air(acrylics).
Pre and post shading was carried out.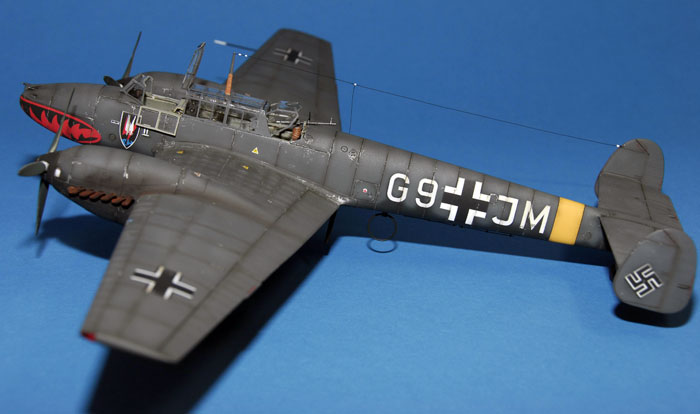 Weathering is pastels, MIG pigments and chipping done with silver Prisma pencil.
Markings are from the kit. I chose the specific ones (it's actually why I got the kit in the first place) from NJG1. Nightfighters, especially Luftwaffe, are my speciality, so having a kit from NJG 1, the shark mouth design (originally from II/ZG76, Haaifischgruppe) and the unusual colour scheme of RLM72 over RLM22 just screamed "do me"!
This specific aircraft was used by NJG 1 in Operation "Donnerkuil", a maritime operation. NJG 1 provided air cover at night, hence the unusual application of RLM72, which was considered a "Naval Green".
Eduard's Bf 110 E is a fantastic kit. Now I have a lot more in my stash. And the Royal Class Bf 110 is available now.
It is an early Christmas for me!