Minicraft 1/144 scale


Lockheed Constellation
by
Frank Cuden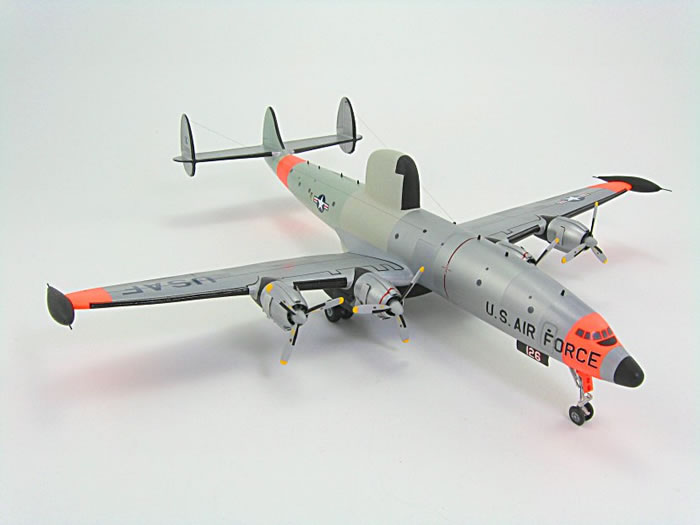 Description
Here is the Minicraft 1/144 scale Lockheed Constellation with Welsh Models vacuform kit decals.
I scratch-built cowl flaps and posed them slightly open. The short black antennae were made from scrap plastic as were the little probes, front and back, on the tip tanks. I had to shorten the prop spinners behind the blades as they made the props stick out too far.
The most time consuming task was masking all areas of the paint scheme and I went through a whole roll of Tamiya tape in the process. Welsh's instructions accurately call out the necessary paint colors so I just followed their lead.
I used Floquil Old Silver as a base coat along with Testor's Model Master Gloss ADC Gray, FS.#16473, for the rear fuselage. The gray on the center fuselage section and radome was Testor's Model Master Flat Light Gray, FS#36492. Various metal panels were over coated with Alclad II. Day Glo Orange came from Testor's enamel in the little square bottles. De-icer boots came in decal form with the Minicraft kit.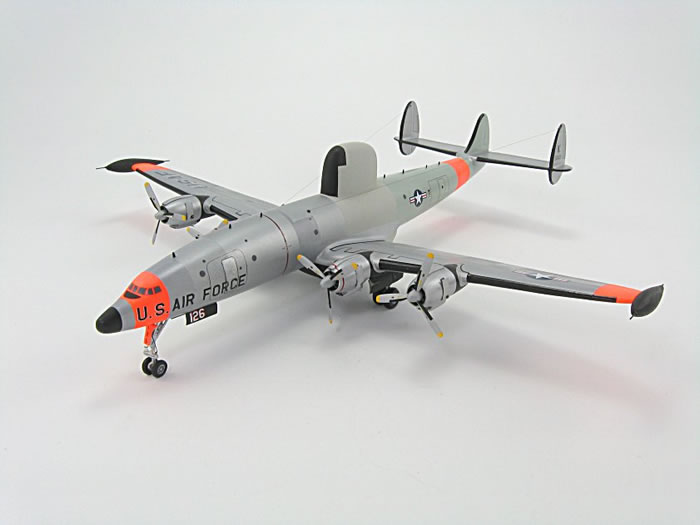 Black thin decal strips were placed on the cutting edges of the props, front and back with any void between the two being filled in with Testor's Semi-Gloss Black. Prop logos and the yellow informational data for the individual blades came from the 1/144th Minicraft C-54 kit. Segmented red striping was applied around the forward cowlings of number 2 and 3 engines to serve as additional propeller warning stripes in addition to the fuselage warning stripe around the fuselage, from the Minicraft kit. Very thin fishing line provided the material for the two antenna wires.

With rare exception, I found the Minicraft kit an easy build but as stated above, the largest amount of time was spent masking and spraying all of the shapes and panels on the model.
The full build article will be submitted to AeroSpace Modeler Magazine in the near future.