Description
Here are several pictures of my recent build of the old Hawk Banshee. This is still the only game in town if you want one in this scale, unless you can afford to go for Collect Aire's version.
This sleek & graceful aircraft has been one of my favourites ever since I first saw photos of it in Aviation Week as a schoolboy. I am obviously not alone in this as I note from several sources that this model is on a great many wish lists & that there have been a few souls like me who have had a go at updating Testor's kit. Its just about time for Murphy's law to strike, surely?
I won't go into the shortcomings of the old Testor kit, however the good news is that the shape is okay for a -1.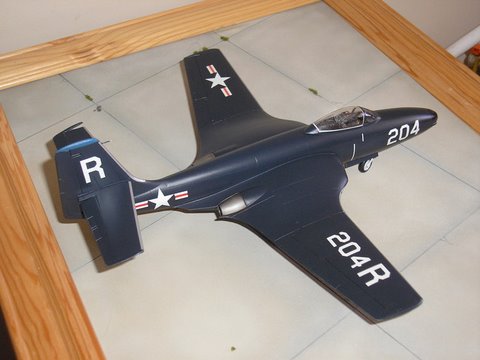 The following modifications were made to mine over a period of some sixty hours (mostly fun).
| | |
| --- | --- |
| | Sand off all surfaces & rescribe. |
| | Install wing spar with cut outs to locate engines. |
| | Full air intakes & boundary layer bleed. |
| | Engine compressor faces & tailpipes. |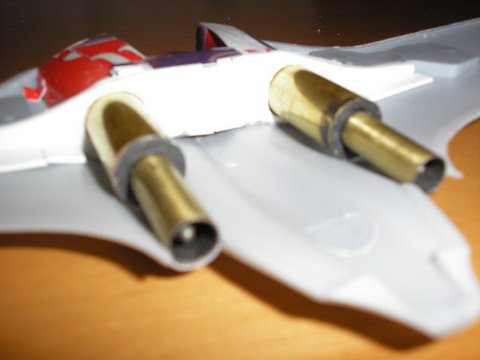 | | |
| --- | --- |
| | Scratch built cockpit. |
| | Resin ejector seat. |
| | Drilled out gun ports. |
| | Scratch built nose wheel bay. |
| | New main undercarriage, resin wheels, scratch built undercarriage retraction details all round. |
| | New undercarriage doors all round. |
| | Main cockpit canopy (from a Hasegawa Mustang) suitably altered. |
| | Dropped elevators. |
Finally, although the kit is a little on the short side for the F2H-2 version, I shortened the tip tanks, Made navigation lights & relocated the wing attachment points & made them removable, so for the purist, the model is in the markings of a F2H-1, but can be posed as a -2 if the mood takes me.
The original aircraft may be found on page 14 of Squadron/Signal 'Banshee in Action' & is 204 of VF-171 based at NAS Cecil Field, Florida, probably in late 1949 or early 1950?
Thanks to them for all the reference material & to my spares box for bits & decals (without which this model would not have been possible).
Click the thumbnails below to view larger images: