Introduction
Modelers have their own reason for the subjects they choose. It may be a particular aircraft itself. Maybe it's an idea or technique to be tried, like wanting to do a natural metal finish for the first time. Many times it's the markings are the deciding factor. This project was more or less a combination of all those reasons. I bought the model because I have always loved the D-9 and I got the kit at a great price. I choose the markings based on the 1/48 version I had completed fairly recently. After seeing the1/48 conversion, Bob Stephenson, the Würger Mechanic, gave me some pointers on how to more accurately accomplish the big tail. I immediately decided to make another attempt at this and do this model in the same markings.

The Model
Several reviews have been written about this model written by people with more knowledge and experienced with this aircraft than me so I won't try adding comments about kit accuracy. As one of the reviews said some of the issues will be deemed acceptable by some modelers and was certainly the case for me.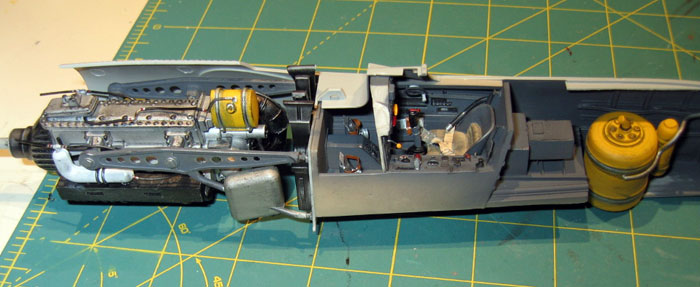 Except for one thing, I did not discover any difficulties with regards to construction that were not already documented. The hardest thing to get used to with this kit was the softness of the plastic. This is only build #10 of my return to modeling and all kits to this point have been either Tamiya or Hasegawa. You take some things for granted after awhile. I had to make some adjustments to technique when it came to sanding and shaping parts when needed. It seemed sometimes that the plastic was being more scratched than sanded. Always wet sanding and starting with a finer grit than I would have normally would have took care of that.
Fit was pretty good and most of the attention was directed at fixing a few things and making improvement to the more glaring errors or deficiencies.

Improvements
| | |
| --- | --- |
| | The Verlinden resin cockpit and PE detail set was used. The PE fret had buckles but no belts and no instructions at all on placement. The belts were made from lead foil and 1/48 Eduard belts were used as a guide. The instructions sheet overall was barley adequate and I ended up using the Eduard sheet from my 1/48 model as a reference for most of the cockpit detail placement. The instruments are from Mike Grant's 1/48 sheet. I had to use the biggest ones from the sheet to "fill" the instrument face, then a drop of Krystal Klear to simulate the glass. |
| | New cowl flaps were made from strip styrene to take care of the thickness issue and the gaps between the individual flaps. |
| | The tail wheel was pretty bad, looking more like a flattened bagel than a wheel. Some 1/48 P-51 hubs from the parts box, selected for the spokes, were chucked in Dremel, sanded down to reduce the diameter, a new rim added with strip styrene and glued into holes drilled in the kits wheel. That assembly was put back in the Dremel and some of the roundness of the tread taken down a little. |
| | Some engine detail was removed, the soft plastic made chiseling easier, and detailed with solder of different sizes. |
| | Hatch doors were too thick and new ones were made from sheet styrene with interior detail from the Verlinden set. |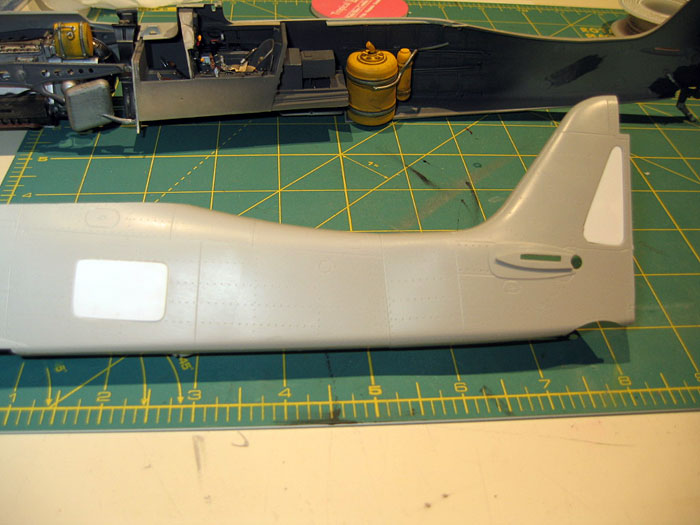 | | |
| --- | --- |
| | Landing gear doors had the fictitious ribbing on the interior replaced (I had to do it twice to get it right) and the spring was added to the struts along with brake lines. |
| | Welds added to the exhausts with stretched sprue softened with Tenax then textured with a hobby knife blade. |
| | Curved hinge on the engine cowl straightened. |
| | All flap detail removed and redone. The kit flaps had just some rudimentary ribs but with the added bonus of ejector pin holes and rough areas as if there were big gouges in the molds. New details made from strips and sheet styrene. The rivets are added using and old dart from my "arrow chucking" days. It makes a great riveter. |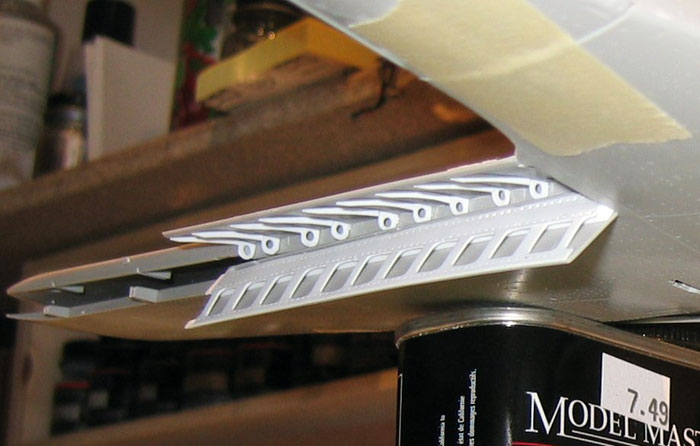 | | |
| --- | --- |
| | The guard over the exhaust for the super charger intake was fabricated from some extra brass sheet from the PE fret. |
| | 4mm was taken off the back of the vertical stab and about 8 degrees of slope added to the front with a plastic spline and Milliput. |
| | Antenna is a single strand of copper wire from a lamp cord darkened with Blacken-It. |

Decals
Not much available in the way of after market stuff for this model but there aren't any decals at all. HobbyDecal makes a nice dry transfer stencil sheet that was used. I had to make all of the fuselage markings. My first attempt at printing my own decal did not do my receding hair line any good. I printed them with an inkjet printer and the yellow was clear like a piece of stained glass.
The mottling showed through. Next I tried printing on white paper, trimming real close, and the same thing. I applied a set of decals to some tape to cut out a stencil to spray some white as an underlay and found it too hard to position.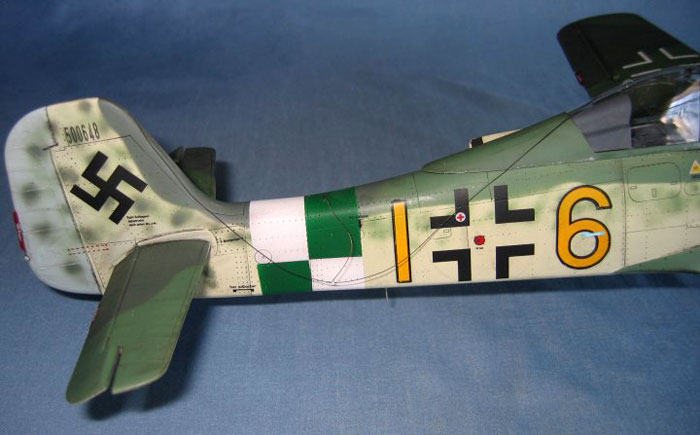 The decals were sort of thick so stacking was out of the question. I know because I tried and the mottling was still visible anyway. After telling this to a friend he tells me he has an Alps printer and he would print them for me. The yellow was a bit grainy but they were super thin and opaque so they made a perfect bottom layer for 2 stacked decals.

Painting
All Model Master enamels with the RLM "84" being mixed. The NMF is Model Master Metalizer buffing aluminum.
2 coats of Future and a wash of pastels powder, water and some liquid dish soap. 2 coats MM flat lacquer then some post shading with pastels and a stiff brush.
I think I need to complete the set with 1/72 and 1/32 scale versions of this aircraft.