Description
Here are some photos of my Tamiya 1/48 scale Heinkel He 219. I finished this model with the assistance of the Eduard photo etched cockpit interior detail, scratchbuliding the landing lights, the fuselage radome for astro inertial navigatio and positions lights.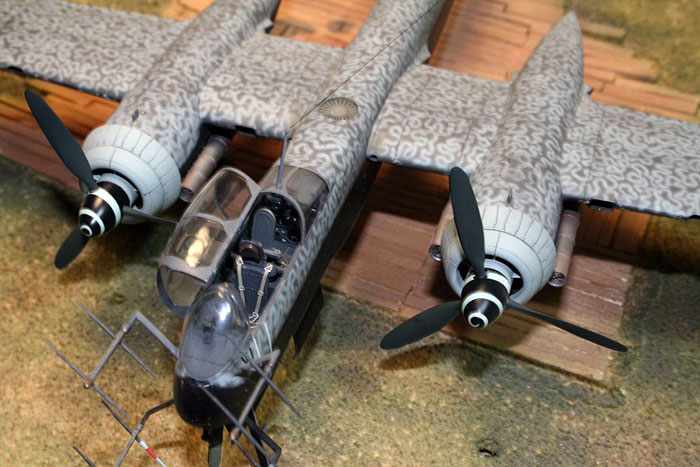 I based this model on photos of Schiffer's He 219 book.

There is very little to say about construction - just a little putty and extremely easy to build.

I focused all my attention on the camouflage job.
It is irrefutable that almost the all late period Luftwaffe night fighters such as the He 219, Ju 88, Bf 110 and Me 262 B1 u1 were painted using a reverse pattern camouflage of 76 Light Blue over solid 75 Grey Violet, on squiggle, net, irregular blotches and cross hatched style. I therefore painted my model this way.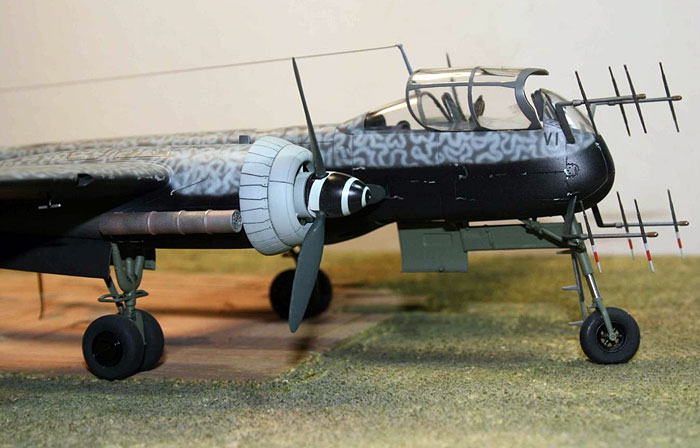 I began with a solid coat of gray violet 75 then, at very slow pressure and the paint dilution like milk, covered the 75 base colour with tight squiggle pattern of RLM 76 Light Blue.

Testor's Model Masters paints were used throughout, finished with Testor's Dullcote.


References
Official Monogram Painting Guide for Luftwaffe Aircraft

Schiffer Night fighters

Schiffer He 219 uhu