Introduction
Here is AMT's 1/25 Scale 1968 Plymouth Road Runner

Pontiac Motor Division of General Motors is generally recognized as inventing the American musclecar in 1964, when they dropped a "big" 389-cubic inch V-8 engine into the lightweight, midsized Tempest body and called the result the GTO. It caught on immediately, and within two years most of the other American carmakers had caught up with musclecars of their own.

But within just three years, the typical musclecar was already starting to grow too fat, too flashy, and--most importantly--too expensive for its intended market, the young car buyer. Some genius at Plymouth recognized this fact and for the 1968 model year,
reinvented the musclecar anew, using Pontiac's original idea of a moderately strong engine in a lightweight midsize body. They put a 335-horsepower, 383-cubic inch engine
in a no-frills, no-chrome Satellite body and called it the Road Runner, licensing
the popular cartoon character from Warner Bothers. It had a horn that went "Meep-meep!" (So did my '61 VW Beetle, if you tooted it twice!)

The Road Runner was initially available only in a two-door post coupe body; hardtop and
convertible were added later. The only optional engine was the legendary 426-CI Hemi (a three-two-barrel carbed 440 would be available in 1969).
Paint and interior color choices were also very limited, at least to start with.

Road Runner in Plastic
The Road Runner was never kitted as an "annual' in 1968, though Jo-Han had it in '69. We'd have to wait 20 years for AMT to make us a '68 Road Runner. When they did, they
sort of missed the whole point (in my opinion) by equipping the kit with the optional Hemi engine and the equally optional Motor Wheel Corp. Magnum 500 styled steel wheels.

I wanted my model Road Runner to more accurately reflect its true humble roots, so I swapped out the Hemi for a more basic 383 from an MPC '69 Barracuda. The kit Magnum 500 wheels went into the parts box too, replaced by painted steel open wheels and "dog dish" hubcaps from a Jo-Han '68 Plymouth Fury police car kit. With one other small exception, my model is otherwise straight out of the box, and in fact is built in OOB style, as if AMT had kitted it that way.

That sole exception is that I added two pieces of insulated wire between the firewall and the engine to represent the heater hoses.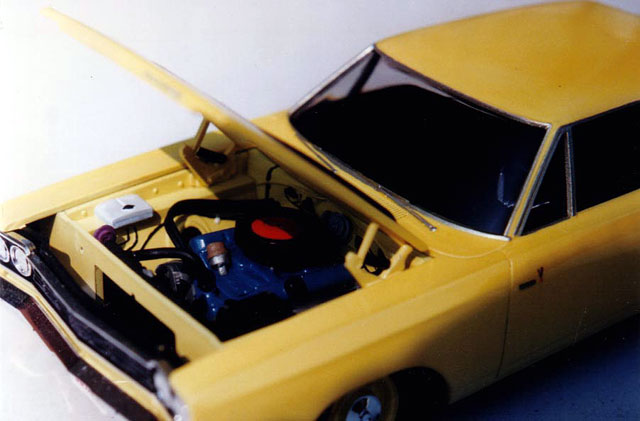 It is amazing what this small modification does to the engine compartment of a model car. It gives, at first glance, the illusion of the engine being fully wired and "plumbed" without that being done at all! The effect is so striking that this model once won a large "best of show" trophy over a large field of
musclecar models, many of which were fully wired and detailed! (Much to my own amazement, I must hasten to add!)

Painting
I painted my Road Runner with a yellow blended from Model Master Bright Yellow and Classic White. It's just a shade "yellower" than the factory color should be; I found if I went lighter, the color started to look a bit beige. The solid, un-clearcoated paint was rubbed out with Wright's Silver Creme, a mildly abrasive silver tableware polish. The engine is Model Master Chrysler Engine blue, and the interior was airbrushed Model Master Black Chrome trim, which does an excellent job of simulating the black vinyl interior (a midyear option, by the way).

I made the windshield washer tank look half-full by airbrushing the top half white and the bottom half blue, then airbrushing the entire tank with more thin flat white
until the blue just barely showed through--another easy but effective illusion!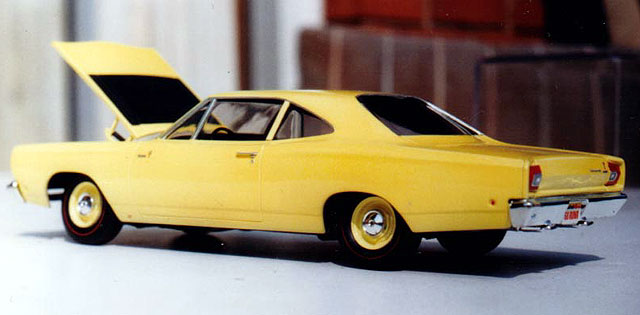 Oh, the model is not light in the front and darker in the back; it is the same shade of yellow overall. Apparently I was having a problem with my camera shutter on the day I took these photos.
Model on!