Background
The Avia S-199 Mezek is based on the famous Luftwaffe fighter, the Messerschmitt Bf 109.

In May 1948, desperate for an answer to the enemy's rule of the skies, Israel bought 25 inferior Czech versions of the famed Luftwaffe fighter for the princely sum of $1.8 million. The IAF's first fighter made history immediately, stopping the Egyptian advance towards Tel-Aviv at Ashdod.


Within a few days Moddy Alon scored the IAF's first aerial victories in his S-199. Despite these achievements pilots complained that the fickle Messerschmitt was so difficult to handle that "she tried to kill us on every takeoff and landing".


Construction
To build the Avia S-199 I used a Hasegawa Messerschmitt Bf 109G-14 in 1/32, the Model Design Construction interior for Bf 109 and the 1/32 scale Avia S 199 conversion by ARBA Products.


Painting and Markings
This plane represents the Avia S-199 "120.T" of No. 101 Squadron Israeli Air.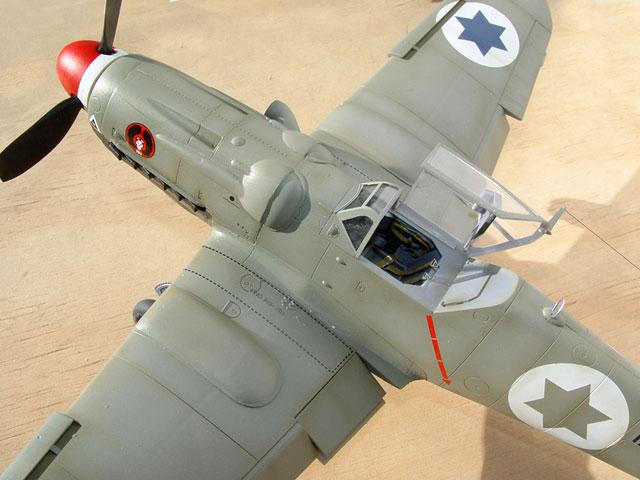 The model was painting with Testor's RLM 02 enamel.
The squadron emblem, data and fuselage code are from the ARBA decal Sheet, the rest of the markings was painted.