Description
I picked up this model kit on a whim when I saw it in a bag at a Comic store.
Unfortuantely I can not identify the kit (my Japanese is non existent) other than the initials (A.T.A.K.) I really liked the face and saw potential for a anime type kit that might look a little less anime than usual.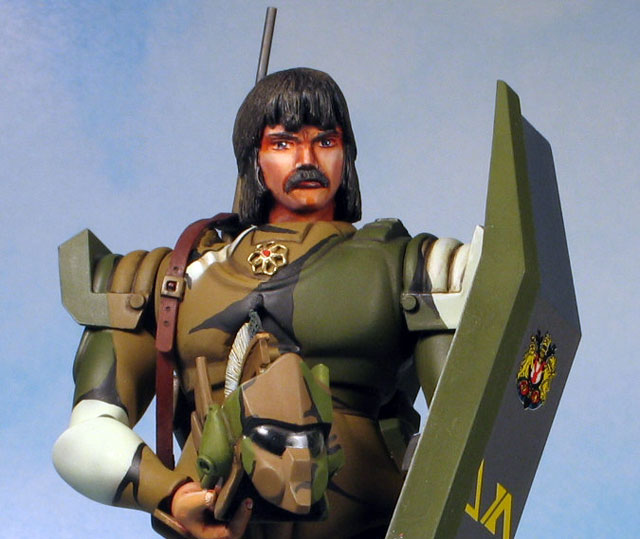 The figure assembled stands 160 mm from heel to top of head. It was molded in styrene and came with a few water slide decals.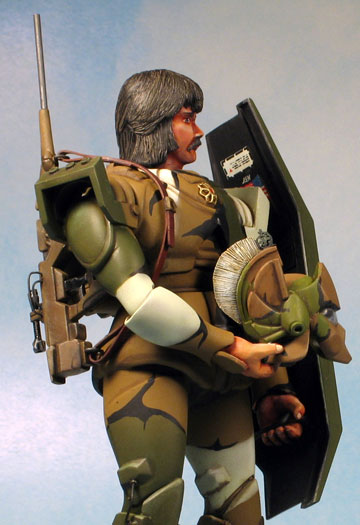 I started with the head and using a hot knife textured his hair and then added a Magic Sculp moustache. The rest of the model was assembled box stock other than filling a few gaps, adding a gun strap, adding some hydraulic lines, and modifing the helmet so it was hollow.

The kit was painted in Testor's enamels and then weathered in oils using a combination of washes, blending, and dry brushing.

The decals came from my personal stuffed file stowage system and are mainly aircraft related.

The figure was added to a wood base and detailed with kitty litter and Evergreen Styrene ground work.

It was a great just for fun project and a welcome relief from research and worrying about how many rivets did this version have.